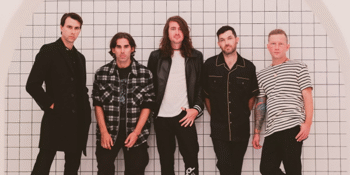 Destroy All Lines presents
Mayday Parade ALL AGES SHOW
Performing their self-titled album in full + fan favourites
The Croxton Bandroom (Thornbury, VIC)
Saturday, 30 April 2022 2:00 pm
Powerhouse Florida quintet Mayday Parade will return to Australia in April 2022!

The band will be celebrating the 11th anniversary of their Self-Titled, third album, 2011's Mayday Parade, by performing it IN FULL along with fan favourites from their stellar discography including tracks from their upcoming seventh album What It Means To Fall Apart, which will be released on November 19 Via Rise Records.

Released in 2011, Mayday Parade features huge singles, Oh Well, Oh Well and When You See My Friends as well as their classic piano driven ballad, Stay, the video for which is closing in on 12 million views!

Since their formation, Mayday Parade have sold over 1.6 million albums in the U.S. inclusive of 675 million streams across their catalogue, earning their spot as a household name in the scene. With a certified Gold album and countless global tours under their belt, the band shows no signs of slowing down as their fanbase continues to grow

Joining the tour for all shows are Real Friends and Aussie Alt-rock Duo, Those Who Dream.

With over 100 million streams and counting, Real Friends are one of the most influential acts of the modern pop punk era. Their latest release, Torn In Two, contains five powerful songs that are then followed by a 'reimagining' of those same songs offering two very different sides of the same story.

Those Who Dream are brothers Josh and Cooper Meyer, who's DIY has earned them acclaim from music press around the world and with viral success via TikTok, they have quickly grown an incredibly loyal fanbase.

Mayday Parade's energising live shows are definitely not to be missed.
With multiple sold out dates on previous tours, die hard fans will get in quick as tickets will not last long, so don't miss out!

Early Bird Pre Sale: Friday 29 October 9am local
General public tickets on sale: Tuesday 2 November 9am local

This is a drug and alcohol free event running from 2pm-6pm.

​​​​​​PLEASE NOTE: PROOF OF DOUBLE VACCINATION AGAINST COVID-19 IS REQUIRED TO ENTER THIS SHOW

This is a CovidSafe event so please:
DON'T COME if you feel sick or if you've been in contact with a person who has been diagnosed with Covid-19. We will refund your ticket (proof required).
WEAR A MASK to this is is a full capacity show. If you are unable to socially distance, it will offer you some protection.

Further safety precautions may be mandated by the Victorian Government, we'll let you know if anything changes.

Important Information for all Ticket holders: for the health and safety of all our guests and staff, we will be adhering to the Covid-19 vaccination directions as mandated by the Victorian Government. In line with the Victorian Roadmap, all staff and artists will be double vaccinated and all guests will be required to check-in via the Service Victoria App with a valid Vaccination certificate as they enter the venue.