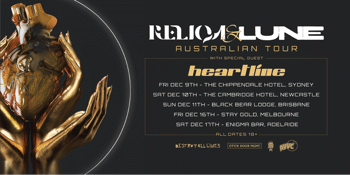 Destroy All Lines & Open Door Management
Reliqa & Lune Australian Tour | Melbourne
with special guests Heartline
Stay Gold (BRUNSWICK, VIC)
Friday, 16 December 2022 7:00 PM
Destroy All Lines and Open Door Management are proud to present Reliqa & Lune debut co-headline national tour across Australia this December.

Already a burgeoning force to be reckoned with in the modern Australian musical landscape, Sydney alternative maestros Reliqa are taking no prisoners in 2022, with a string of high profile live shows already under their belts this year as well as the release of their latestEPI Don't Know What I Am.A relentless, polished and explosive endeavour across the space of six tracks, I Don't Know What I Am furthers Reliqa's stronghold as one of the most affluent alternative acts in the modern scene, with sharp riffage, brisk drumwork, djenty interludes and the steadfast stylings of vocalist Monique Pym lying in wait on the group's follow up to 2018's Eventide EP.
Melbourne's LUNE are carving their own path into the world of heavy music with their exciting and refreshing take on Metalcore. Formed in 2019 by former I, VALIANCE guitarist Krys Smith, and brother Nathaniel Smith - the group also features guitarist Mason Hine (Advocates), bassist David Freeland (I, Valiance) and drummer Harrison Mills (The Pain Body, Blind Oracle). With a performance that is described as "captivating" and "not to be missed" it's easy to see why they were chosen to tour with local legends such as Polaris, Alpha Wolf, Gravemind and make their festival debut at Knight and Day Festival with the likes of Parkway Drive. Having accomplished so much in such a short time as a band, LUNE is a group that will not let itself go unnoticed. You may have heard the hype but make no mistake, when you experience LUNE you will believe it.
Joining both bands across the country will be Adelaide metalcore quartet Heartline, after a busy year supporting their latest single Delorean and opening shows for prog-rock legends Circles, the band are eager to get back on the road and join forces with Lune & Reliqa, these shows are not to be missed