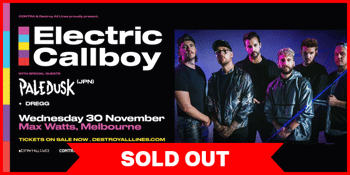 Destroy All Lines Presents
Electric Callboy Sideshow
Max Watt's Melbourne (Melbourne, VIC)
Wednesday, 30 November 2022 7:00 PM
As diverse and as electrifying as their name,
Electric Callboy
weld modern trap with alt rock, pop punk and beyond into an exhilarating musical experience. Their latest release
TEKKNO
debut at #1 on the German album charts. It journeys between comedy, powerful pop, and trancecore, as well as oscillating between synthy pop and hard-hitting circle pit anthems with extreme ease.

Electric Callboy are known for their ecstatic live shows and will be performing in Australia for the very first time.
Supporting them as special guests are Japan's most exciting heavy acts
Paledusk
and Mlebourne's
DREGG. Clay J Gladstone
will be supporting them in Sydney.
DOORS: 7:00PM
TBC: 7:30PM-7:50PM
PALEDUSK: 7:50PM-8:10PM
ELECTRIC CALLBOY: 9:10PM-10:10PM