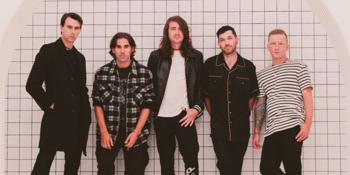 Destroy All Lines presents
Mayday Parade
Performing A Lesson In Romantics In Full + Fan Favourites
The Croxton Bandroom (Thornbury, VIC)
Thursday, 28 April 2022 7:30 PM
MAYDAY PARADE have announced a very special additional show in Melbourne on Thursday 28 April 2022 at The Croxton Bandroom performing A Lesson In Romantics in full! With tickets to their current tour flying out the door, these won't last long!
​​​​​​
PLEASE NOTE: PROOF OF DOUBLE VACCINATION AGAINST COVID-19 IS REQUIRED TO ENTER THIS SHOW

This is a CovidSafe event so please:
DON'T COME if you feel sick or if you've been in contact with a person who has been diagnosed with Covid-19. We will refund your ticket (proof required).
WEAR A MASK to this is is a full capacity show. If you are unable to socially distance, it will offer you some protection.

Further safety precautions may be mandated by the Victorian Government, we'll let you know if anything changes.

Important Information for all Ticket holders: for the health and safety of all our guests and staff, we will be adhering to the Covid-19 vaccination directions as mandated by the Victorian Government. In line with the Victorian Roadmap, all staff and artists will be double vaccinated and all guests will be required to check-in via the Service Victoria App with a valid Vaccination certificate as they enter the venue.