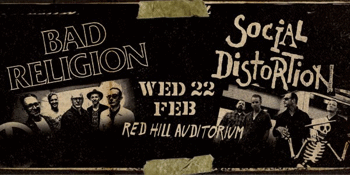 Destroy All Lines presents
CANCELLED - Social Distortion and Bad Religion Co-Headline Tour
Red Hill Auditorium (Red Hill, WA)
Wednesday, 22 February 2023 6:30 pm
We are witnessing music history in the making; despite "growing up" in the same scene
Social Distortion & Bad Religion
have never toured together! Both bands have been excited about the possibility and have worked towards this end for YEARS. Today, Los Angeles Punk and Orange County Rock n' Roll legends
Bad Religion & Social Distortion
announce an Australian & NZ co-headlining tour.
"I've been a huge Social Distortion fan for over 40 years, and I guarantee you no one is more excited about this tour than I am. Sick Digital Boys 2023!"

- Brian Baker, Bad Religion
"We are really looking forward to this incredible tour with our good friends Bad Religion. It's been years since we've played a show together and it's about time we take it on the road. Not
only are we excited for this reunion, but to also return to Australia and finally hit New Zealand!!! See you all soon!" -
Mike Ness, Social Distortion.