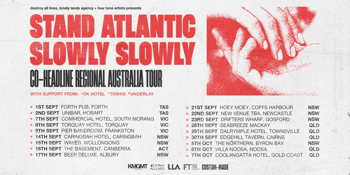 Destroy All Lines, Lonely Lands Agency & Four Tone Artists presents
Slowly Slowly & Stand Atlantic Co-Headline Regional Tour
With Special Guests Underlay
Edge Hill Tavern (Cairns, QLD)
Saturday, 30 September 2023 7:00 pm
AUSTRALIAN ROCK CHAMPIONS UNITE FOR AN AUSTRALIAN CO-HEADLINE TOUR FOR THE AGES!!
Slowly Slowly and Stand Atlantic are thrilled to announce they are joining forces on a mammoth Australian Regional tour through September & October.
Slowly Slowly, one of Australia's most adored and beloved bands have just wrapped up their incredible sold-out 'Daisy Chain' album tour, culminating in 3500 tickets sold in Melbourne and the presentation of their inaugural "Easy Lover" mini one day festival. The time has now come for the band to reconnect with their regional fans with Ben Stewart adding "We've always been treated kindly by our regional audiences—we're thrilled to announce we'll be dragging our empty hearts far & wide across regional Aus for a much-needed refill of sweat, singalongs and terrible dancing. We'll be alongside our new friends Stand Atlantic (soon to be family, we're sure) who we are of course huge fans of. The countdown begins!"
Over the years, Slowly Slowly have become firm festival favourites, perfecting their captivating live show through spots at Splendour In The Grass, Full Tilt, Groovin The Moo and Good Things Festivals, as well as various headline shows and supports alongside Red Hot Chili Peppers, Amy Shark and Ocean Alley.
Stand Atlantic has no intention of slowing down with Bonnie Fraser exclaiming "We're elated to be touring across the regional parts of our home alongside Slowly Slowly in September + October! We have never done as long a tour in Australia before, so we're excited to see some new faces in some new cities!"
Two years and a pandemic later, Stand Atlantic crushed all expectations with their latest album, f.e.a.r. Buoyed by the massive hit, "deathwish feat. nothing, nowhere." (which has over 35M streams to date), they broke into the Top 10 on the ARIA Australian charts and Top 20 on the US Billboard Top Albums chart.