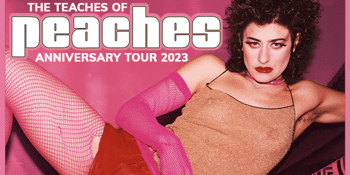 Consume & Destroy All Lines Presents
The Teaches Of Peaches Anniversary Tour 2023
Beach Hotel, Byron Bay (Byron Bay, NSW)
Thursday, 16 February 2023 8:30 PM
THE TEACHES OF PEACHES ANNIVERSARY TOUR

"Godmother to "WAP"" (CBC), feminist icon and pop provocateur Peaches' announces The Teaches of Peaches Anniversary Tour. A celebration of the 20th anniversary of Peaches' seminal The Teaches of Peaches, she will be performing the album in its entirety across North America, Europe, the UK and now Australia. In addition, Peaches is currently working on a brand-new album, with more details to come.

At her live performances, Peaches turns the stage into her personal playground. With outrageous costuming and provocative choreography, The Guardian calls her shows a "joyous, gender-mashing cabaret" and "a dazzling mix of ingenuity and high drama."

An iconic feminist musician, producer, director, and performance artist, Peaches has spent more than two decades pushing boundaries and breaking barriers, dramatically altering the landscape of popular culture as she forged a bold, sexually progressive path that's opened the doors for countless others to follow. Through music, art, film, theatre, television, and books, she has upended stereotypes and embraced taboos, challenging social norms and patriarchal power structures while championing LGBTQ+ rights and issues of gender and sexual identity with biting wit and fearless originality.