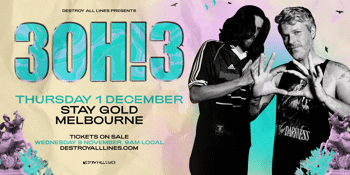 Destroy All Lines Presents
CANCELLED - 3OH!3 Sideshow
Stay Gold (BRUNSWICK, VIC)
Thursday, 1 December 2022 7:00 pm
The dynamic duo Sean Foreman and Nathaniel Motte aka 3OH!3 have been rocking sold out venues, amphitheaters, and college campuses around the world since 2018.

Your boys have cemented their sound with global hits like Don't Trust Me, STARSTRUKK (feat. Katy Perry), & My First Kiss (feat. Kesha). Having not released any music as 3OH!3 since 2016, Sean and Nat have written and produced hits for other artists such as Maroon 5's Love Somebody, MAX's Lights Down Low, Ariana Grande's Tattooed Heart, and Kesha's Blah Blah Blah.

They continued to play in front of thousands of fans while celebrating the 10-year anniversary of their RIAA certified Gold album WANT. in 2020, the itch of wanting to get back in the studio to make music that was fun, inclusive, edgy, weird and – most importantly – their own, proved to be an inevitable reality. And 3OH!3 is back with new music with more to come.